According to our survey of 158 respondents, 43% favored a non-traditional celebration of Shavuot, the Feast of Weeks, citing the date as determined according to the Sadducean/Boethusian/Karaite reckoning, which always places Shavuot on the "Sunday" 50 days after the seventh-day Shabbat (Saturday) during the Feast of Unleavened Bread. However, though this option constituted the majority of the responses, an analysis of the full survey results reveals that this is not the majority opinion.
The Raw Data
Here are the actual results of the survey.
I celebrate Shavuot on the 50th day after…

28%

Passover/1st Day of the Feast of Unleavened Bread (traditional/Sivan 6).

43%

the Shabbat during the Feast of Unleavened Bread (Sadducees – always "Sunday").

0%

the last day of the Feast of Unleavend Bread (Falashas).

0%

I didn't know there were different possibilities for the date of Shavuot .

15%

Whenever the Jewish calendar says so.

8%

Whenever my congregation celebrates it.

5%

I have never celebrated Shavuot.

1%

What's Shavuot?
The traditional date of Shavuot is Sivan 6, which, according to the Jewish calendar, is always 50 days after the second day of the Feast of Unleavened Bread (Nisan 16, Pharisaic reckoning). While 28% of respondents selected this choice, 15% also indicated that they rely upon the traditional Jewish calendar to determine when to celebrate Shavuot. This means that 43% percent of all respondents celebrate Shavuot according to the traditional date of Sivan 6, putting this reckoning in a dead heat with the formerly apparent leader.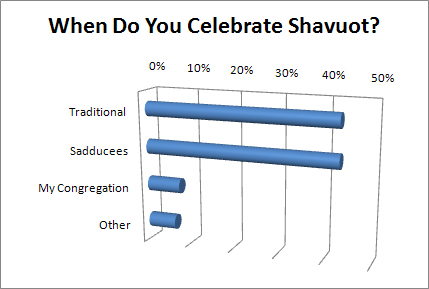 Breakdown by Demographics
| | | | |
| --- | --- | --- | --- |
| | Traditional | Sadduccean | % of total rspndnts |
| Jewish | 54% | 38% | 33% |
| Gentile | 38% | 44% | 66% |
| Messianic Cong. | 47% | 43% | 43% |
It is interesting to note that both Jewish believers (by a 19 point margin) and those involved in Messianic congregations (by a narrow margin of 4 points) favored the traditional reckoning, while Gentile believers favored that of the Sadduccees by 6 points.
This may indicate that Jewish believers are less likely to part ways with the Jewish community, and that Messianic congregations have a slight tendency to side with tradition—at least in the matter of Shavuot. On the other hand, Gentile believers may be more likely to dismiss Judaism's point of view, indicating a certain level of disregard for the people of Israel. That said, it may be just as likely that those willing to challenge the traditional reckoning—Jew and Gentile alike—have done so through sincere study of Scripture, or even having been persuaded by Jewish roots, emotion-based reasoning (i.e. Yeshua was resurrected on a "Sunday," allegedly making that day "first fruits," and should therefore start the counting from the Omer, etc.). How people arrived at their conclusions cannot be discerned from the survey results, only that there does appear to be a correlation between viewpoint and degree of actual connection to the Jewish people.
Conclusion
All respondents were at least aware that there is an enduring controversy regarding the time of counting from the Omer and the subsequent dating of Shavuot. While some are content to simply follow the Jewish calendar (15%) or the lead of their congregation (8%), the majority (71%) has a definite opinion, and that opinion is heavily centered on the two main alternatives that have been in competition since the days of Yeshua.
With 43% of respondents choosing the Sadducean method, this indicates either an intentional antagonism toward tradition's established decision, or a preponderance of alternative teaching that has had a significant influence on those both within and outside Messianic congregations. Either way, it is clear that the traditional point of view in this matter is in no way accepted carte blanche, at least in certain circles in and around the Messianic Jewish Movement, and that people are willing to entertain and embrace alternative points of view. The question is, will those who do not fall in line with tradition be willing to allow their own views to be challenged and questioned, or will they oppose tradition by reflecting their own dogmatism and closed-minded attitudes?
https://www.perfectword.org/wp-content/uploads/2017/04/logo-full-size.png
0
0
Kevin Geoffrey
https://www.perfectword.org/wp-content/uploads/2017/04/logo-full-size.png
Kevin Geoffrey
2010-05-18 15:02:56
2010-05-18 15:02:56
When Do You Celebrate Shavuot?