About Perfect Word Ministries
The Purpose of Perfect Word: Messianic Jewish Equipping
The Present Work of Perfect Word: Teaching, Supporting, Equipping, Laying Foundations
Hastening the Day—Why Perfect Word Exists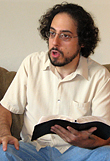 Born Kevin Geoffrey Berger, Kevin is the firstborn son of a first-generation American, nonreligious Jewish family. From childhood, he was ashamed of his Jewish heritage, deliberately attempting to hide his identity as a Jew. Kevin spent his youth like most Jewish kids—essentially assimilated into American culture, embracing the things of the world and pursuing the things of the flesh.
At fifteen years old, Kevin was diagnosed with Crohn's disease, a serious and incur-able disorder of  the digestive tract.  After experiencing a sudden and apparently miraculous healing, Kevin's heart was opened to consider the possibility of something in which he had always been taught not to believe:  the existence of God.  A few years later, through various influential encounters and relationships, Kevin accepted Yeshua as Messiah and became what he then understood as a "born-again Christian."
Upon graduating from high school, Kevin rejected higher learning to half-heartedly pursue a career in music.  With delusions of grandeur and his newfound identity as a "Christian," Kevin legally changed his name to Kevin Geoffrey, completing his assimilation from "Jew" to "Christian." When his ambition as a "rock star" ultimately failed to materialize, Kevin conceded defeat and entered Jacksonville University (Florida), where he graduated with high honors.
Throughout college, Kevin zealously studied the Scriptures. Seeking like-minded believers, he visited several Christian churches, but he was unable to find a place to call home. It was during this time that Kevin revealed his Jewish heritage to a close friend, who introduced him to the existence of the Messianic Jewish Movement.
Shortly before meeting his soon-to-be wife Esther, Kevin became part of a non-denominational Christian Fellowship where he was discipled in his faith, as well as in praise and worship ministry. Together, Kevin and Esther continued to learn about the Messianic Jewish Movement and became occasional attendees at the local Messianic congregation.  Within a year and a half, and after the Christian Fellowship suffered a devastating split, Kevin was able to fully embrace his call as a Messianic Jew and was restored to his Jewish heritage.
Today, Kevin is a strong advocate for the restoration of Jewish believers in Yeshua to their distinct calling and identity as the remnant of Israel. Kevin is the founder of Perfect Word Ministries, a Messianic Jewish equipping ministry, which he serves as principal laborer. He is the author of the Messianic Devotional and The Messianic Life series of books, and is a regular contributor to Jewish Voice Today magazine. Kevin has been licensed as a Messianic Jewish Teacher by the IAMCS (International Alliance of Messianic Congregations and Synagogues), and ordained by Jewish Voice Ministries International.  He has taught in live seminars and conferences throughout the United States, as well as multiple Messianic congregations and synagogues. He has also served in congregational leadership, and as an anointed praise and worship leader both in congregations and in regional, national and international Messianic conferences.
Kevin resides in Phoenix, Arizona with his wife Esther and their four beautiful sons, Isaac, Josiah, Hosea and Asher.