About Perfect Word Ministries
שלום

, Shalom!
My name is Kevin Geoffrey, and I am a father, a husband, and a Jewish disciple of the Messiah Yeshua! I am also the principal laborer of Perfect Word Ministries. Thank you for allowing me the opportunity to introduce myself, and to share with you about the uncommon ministry of Perfect Word.
The Purpose of Perfect Word: Messianic Jewish Equipping
Perfect Word serves the Body of Messiah as a Messianic Jewish equipping ministry—"Messianic Jewish" because this is both Perfect Word's first audience, as well as the identity from which I personally approach life in the Messiah; "equipping" because this summarizes my and Perfect Word's job of helping to prepare you for the work of serving the Master—"for the building up of the Body of the Messiah… until we all may come… to the whole measure of maturity" (Ep.4:12-13, MJLT). The purpose of Perfect Word is encapsulated in the maxim, "Calling the Body of Messiah to maturity by teaching the simple application of Scripture for a radically changed life in Yeshua." Read the Perfect Word mission and vision statements.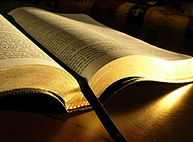 Through Scripturally sound exhortation and teaching, Perfect Word is a clear voice, calling with prophetic admonition for us in the Body of Messiah to turn our collective backs on ourselves and worldly influences, and once and for all become the mature, effective, dedicated disciples of Yeshua we are supposed to be. The name "Perfect Word" boldly speaks to the fundamental and overarching belief that Scripture is not only Adonai's flawless, perfect Word encoded in the stuff of human language, but it is simple to understand and easy to apply in our lives. Indeed, it is our own preconceived ideas, fleshly resistance, pet theologies, and religious dispositions that cloud our hearts and minds to the simple, perfect Word, thereby keeping us from allowing it to shape the way we live… robbing the Scriptures of their authority as the solely trustworthy and reliable source for leading us into the way of uncompromising, spiritual, and actual change.
Because of this outlook and approach to Scripture and to life in Messiah, you will find that the message of Perfect Word is notably different from that of other Messianic ministries. My goal is not to disseminate intellectual, Hebraically-minded information and insights, nor comb the thoughts and traditions of Judaism for their purported wisdom and authenticity, nor antagonize and fault Christianity for its compromises, failures and shortcomings. Rather, my goal as a Jewish follower of Yeshua is to present the Messianic Jewish perspective of Scripture in such a way that we will all be provoked—Jews and Gentiles alike—to fully lay down our lives, totally abandon and deny ourselves, and finally get down to the business of doing the only work that should completely consume our lives: being and making effective disciples of Messiah.
Hastening the Day—Why Perfect Word Exists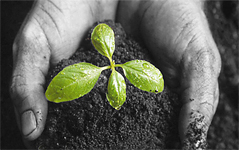 Keifa/Peter reminds us that "Adonai is not slow in regard to the promise (as certain ones count slowness), but is patient toward you…. [Therefore,] what kind of people ought you to be in holy behavior and godly acts? The kind who are waiting for and hastening the coming presence of the Day of God…." (2Ke.3:9,11-12, MJLT)
The manner in which we daily live as disciples of Messiah hastens the Day of the Master's final return; though we must patiently wait, amazingly, we can also speed the coming of that Day by our lives of "holy behavior and godly acts." It is this remarkable and understated truth that drives me to teach and spur Yeshua's disciples on toward "the whole measure of maturity"—that we may all undergo the critical, radical change needed for us to fully follow our Master. Indeed, while we are waiting for Him, He is being patient toward us! What else could delay His return if not our own reluctance to deny ourselves and live for Him alone?
My life, the lives of my family, and the ministry of Perfect Word is wholly committed to the proclamation of this life-changing message: that through the simple application of Scripture, change we must—and change we can—for the building up of the Body of Messiah, for the restoration of Israel, and for the salvation of all the nations of the earth… "and then will the end arrive"! (Mt.24:14, MJLT)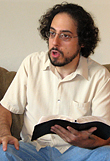 KEVIN GEOFFREY, born Kevin Geoffrey Berger, is the firstborn son of a first-generation American, non-religious, Jewish family. Ashamed of his lineage from childhood, he deliberately attempted to hide his identity as a Jew, legally changing his name as a young adult. After experiencing an apparently miraculous healing from an incurable disease, however, Kevin began to search for God. Eventually, in 1988, he accepted Yeshua as Messiah, a decision which would ultimately lead him to be restored to his Jewish heritage. Today, Kevin is a strong advocate for the restoration of all Jewish believers in Yeshua to their distinct calling and identity as the faithful remnant of Israel.
Kevin has been licensed by the International Alliance of Messianic Congregations and Synagogues (IAMCS), and ordained by Jewish Voice Ministries International (JVMI). He has taught in live seminars and conferences throughout the United States, as well as multiple Messianic congregations and synagogues. He has also served in congregational leadership, as well as been involved in such endeavors as congregational planting and leadership development. Kevin is best known as an author, having published seven books to date, including the Messianic Daily Devotional, The Messianic Life: Being a Disciple of Messiah, and Bearing the Standard: A Rallying Cry to Uphold the Scriptures. He is also the editor of the Messianic Jewish Literal Translation of the New Covenant Scriptures (MJLT NCS). In addition to writing about uniquely Messianic Jewish topics, Kevin's clear and impassioned teachings focus on true discipleship, radical life-commitment to Yeshua, and championing the Scriptures as God's perfect word.
Kevin is a husband, a father, and also the principal laborer of Perfect Word Ministries, a Messianic Jewish equipping ministry. He currently resides in Phoenix, Arizona, with his wife Esther and their four cherished sons, Isaac, Josiah, Hosea and Asher.