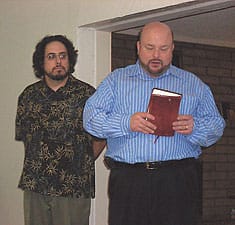 During the 2006 IAMCS Rabbi's Conference, Kevin received interim ordination (licensing) with the IAMCS as a "Messianic Jewish Teacher." In addition to this first ordination, Kevin was also given an equivalent ordination from Jewish Voice Ministries (JVMI) in an informal service at the Geoffrey home. The ordination was performed by Jonathan Bernis, a pioneering Messianic Rabbi and Jewish Evangelist, and the Executive Director of JVMI. Also in attendance were several of our friends who are leaders of Messianic Congregations here in Phoenix.
During the service, Jonathan explained that ordination is a recognition by people of something that Adonai has already established. He went on to discuss the special calling and ministry of the Teacher, saying that a man so called is himself a gift to the Body of Messiah (Ephesians 4), yet has a great responsibility, and will be held to a high standard. (James 3).
Both the JVMI and IAMCS ordinations are intended to result in full ordination following a period of study, discipleship, and review by other fully ordained leaders.
Pictured above, Kevin listens intently as Jonathan explains about the calling, ministry and responsibility of being a Teacher.
https://www.perfectword.org/wp-content/uploads/2022/03/PW-logo.svg
0
0
Kevin Geoffrey
https://www.perfectword.org/wp-content/uploads/2022/03/PW-logo.svg
Kevin Geoffrey
2007-10-15 10:29:17
2007-10-15 10:29:17
Kevin receives licensing