How Shall I Vote? What the Bible Says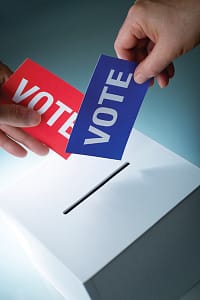 If you're like me, you have been troubled over the impending presidential election. Though past cycles have yielded some less-than-ideal candidates, this time around our alternatives appear, well, apocalyptic. While there was one candidate I never personally considered a viable option, the idea of voting for that candidate's main opponent has not exactly brought me a great deal of comfort. After months of contemplating many peoples' opinions on the topic, I finally decided to go to the Scriptures to see if they could provide me with any guidance about how I might cast my ballot in righteousness.
When it comes to making choices, there is no better way than to receive direct instructions from God. For example, it was by way of the uriym and tumiym—the "lights and perfections"—embedded in the high priest's breastplate, that Israel knew when they were to "go out, and… come in" (Exodus 28:30, Numbers 27:21, cf. 1 Samuel 28:6). Wouldn't that be a nice way to go?
Then, of course, there is Gideon's fleece. When he was faced with an important choice, he actually tested God, such that "if [so-and-so happens], then I have known that You[, God, will] do… as You have spoken" (Judges 6:36-40). But laying out a fleece doesn't seem applicable here.
There is also Acts 1:23-26, which records how the emissaries cast lots for Judas' replacement among the Twelve. Maybe that's not such a bad idea: just flip a coin and believe for a divine result! After all, they were inquiring of God, "You, Adonai, who are knowing the heart of all, show us which one of these two you chose" (mjlt). But can we faithfully apply this passage to our present circumstances? Is the choice between two godly, righteous disciples equivalent to choosing between two… um… (how do I put this?) two… other kinds of… people?
After pondering these things for a while, I think I finally settled on 1 Samuel (Sh'muel) 8:4-19 as the passage that best informs me concerning the presidential election. During a critical moment in Israel's development, the elders of Israel approached Sh'muel and said to him,
"Now, appoint to us a king, to judge us, like all the Goyim [nations]." And the thing is evil in the eyes of Sh'muel… and Sh'muel prayed to Adonai. And Adonai said to Sh'muel, "Listen to the voice of the people, to all that they say to you, for they have not rejected you, but it is Me they have rejected, from reigning over them…." And Sh'muel spoke all the words of Adonai to the people who are asking from him a king, and says, "This is the custom of the king who reigns over you: he takes your sons… And he takes your daughters… And your fields, and your vineyards, and your olive-yards—the best—he takes… and you are to him for slaves. And you have cried out in that day because of the king whom you have chosen for yourselves, and Adonai does not answer you in that day." And the people refuse to listen to the voice of Sh'muel, and say, "No, but a king is who we want over us…."
In asking for a king—even a king that they knew would oppress and enslave them, as it was in Egypt—Israel disavowed everything that made them exceptional, sought the ways of the worldly nations around them, and rejected the good God as their one, true King…
…and God told Sh'muel to give them what they deserve.
My brother, my sister, our nation has so increasingly rejected God that, in far too many ways, it makes little difference who becomes our next president—God will give us the king (and country) we deserve, and we will "cry out in that day because of the king whom [we] have chosen for ourselves." Our future lies not in the half-hearted support of a presidential candidate, but in our daily commitment to offer a full-throated endorsement of the Messiah.
My plan, then, for the upcoming election is to pray: to pray for the candidates, and for the electorate; to pray for God's mercy… and for a miracle. I'm also going to pray that my voting choice is both godly and righteous; and that God will give me peace over it, regardless of the consequences.
We may cast our votes for president, but let us first choose our King Yeshua—who saves us from what we deserve.
What do you think? Share your thoughts below.
https://www.perfectword.org/wp-content/uploads/2022/03/PW-logo.svg
0
0
Kevin Geoffrey
https://www.perfectword.org/wp-content/uploads/2022/03/PW-logo.svg
Kevin Geoffrey
2016-10-25 18:28:35
2017-07-06 12:41:20
How Shall I Vote? What the Bible Says