Hope for Finding Common Ground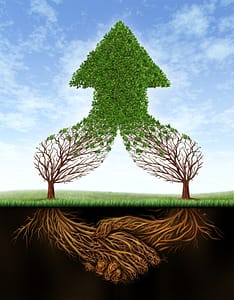 I'm always excited to meet other believers in Yeshua, regardless of affiliation or relationship to the Messianic Jewish movement. Recently, we were getting to know another believing family, and over the course of those first few awkward moments of getting acquainted, the young father asked me, "So, what kind of music do you like?" Now, being a musician myself, this was not a strange question to me—in fact, it was one which I could readily answer. Yet within me, it struck a dissonant chord of superficiality. Here we were: two men in Yeshua, two fathers of sons, meeting for the first time, and our best point of connection was the kind of music I like?
While one's taste in music may be shallow common ground for planting a relationship, believers in Yeshua have been known to build on less. But what about more substantial issues, such as controversial doctrines? Are shared beliefs on things like "once saved, always saved," predestination, baptism, speaking in tongues, or whether or not Christians are required to keep Torah, enough to establish the foundation for deep, enduring relationships? Or perhaps we can find our camaraderie over slightly less contentious matters, such as style of worship, method of prayer, or manner of preaching?
But what happens when our tastes change? What if our doctrinal perspectives shift? How can a relationship built on personal preference or position papers survive such a transformation? The problem is, no amount of shared likes and dislikes, religious kinship, or even tolerance for differing points of view is sufficient ground upon which to establish a relationship… much less build the Body of Messiah. Uniting solely or even primarily on such fronts will appear to work for a time, but eventually—as we experience change—the ties that bind us will strain and ultimately break. No, our relationships need to be built upon something far more reliable; something beyond man's ability to bend.
If we are to have any hope for true agreement, unity and partnership with one another, we must first submit our lifestyles and beliefs to a single, objective, unwavering voice of truth; one that cannot be changed over time, or subjugated to man's ever-evolving conclusions. Before we can forge a relationship with one more family, friend, community or cause, we need to be sure that relationship will be guided and governed solely according to God's will, and never by our own understanding. We cannot build either ourselves or the Body of Messiah on the shifting sands of men's preconceptions, preferences, or precepts. We must only build on the sovereign, solid rock of God's Word… we must first and foremost bear the standard of Scripture.
We won't produce lasting, effective relationships for Messiah if we choose to invest our time and resources into people based simply on how much we enjoy their company, or whether we walk the same doctrinal lines, or because we have certain lifestyle-related things in common. Indeed, we need to be on guard to not carelessly yoke ourselves together with believers who do not share our level of commitment to the Master Yeshua, as well as our single-minded dedication to uphold the standard of Scripture. As mature disciples of Messiah, we must allow Scripture to establish and define our relationships with one another. Only then, in the light of God's pure, perfect Word, can we have confidence that our relationships are of Him. Let us raise the banner of Scripture to one another as the sole standard by which we will be led through life. Then, as we begin walking together in unison, we will see that we're in step with the same, simple song.
What do you think? Share your thoughts below.
This "Word from Kevin" was previously published in Messianic Jewish Issues.
https://www.perfectword.org/wp-content/uploads/2022/03/PW-logo.svg
0
0
Kevin Geoffrey
https://www.perfectword.org/wp-content/uploads/2022/03/PW-logo.svg
Kevin Geoffrey
2013-02-06 14:08:52
2017-07-05 15:18:01
Hope for Finding Common Ground